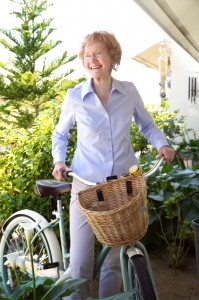 Many people over 60 discover that home ownership has become a burden instead of a blessing. Ongoing home maintenance and yard upkeep can be a pain, and they only get more inconvenient over time. Many older adults would prefer to spend their retirement having fun, making connections, and investing their time and money in the things that really matter. With that in mind, Sierra View Homes Retirement Community offers two housing options that support your busy lifestyle.
Sierra View Homes Retirement Living Center consists of 63 garden apartments and 52 contemporary senior apartments in a three-story building specifically designed for active adults over 55. No longer burdened with home maintenance or the upkeep of a yard, residents are free to pursue their individual interest and participate in community activities. Active living homes can be secured by lease agreements between residents and Sierra View Homes. With monthly rental fees and no expensive entrance fees, residents can live independently for as long as they meet our requirements for active living.
Sierra View Homes' apartments range from simple, cozy one-bedroom units to spacious two-bedroom, two bath units. A fenced, landscaped campus offers added security. Amenities include a large community room, an open invitation to social and recreational activities held on the campus and free use of the Wellness Center which includes an indoor heated pool, a spa and gym equipment.
Accommodations and services include:
Apartment rent includes water, sewer, and garbage disposal fees.
Residents will pay for their own electricity, gas, and telephone.
Appliances furnished and maintained include electric stove with oven, refrigerator, garbage disposal and heating and cooling equipment.
Ample storage space and generous pantries.
Off street parking. Covered parking is available for an additional fee.
Use of large community room for family gatherings, etc., for a small fee.
Electronic fire alarm system in each apartment.
Emergency call system in each bedroom and bathroom to call for help in an emergency.
Cable TV package.
Individual patios and porches.
Residency
Must be at least 60 years of age. Any person living with the applicant must be at least 50 years of age.
Residents must be reasonably healthy, ambulatory, and able to take care of themselves. A physical is required prior to occupancy. Residents are responsible for the insurance on their personal property.