Pets can be good medicine.
Do you own a pet?  Pet lovers are quick to tell you about the immediate joys of pet ownership. At Sierra View, we pride ourselves in our lenient pet policy, which has allowed many independent and assisted living residents to bring their furry loved ones with them. As a result, our campus boasts many non-human residents – from small dogs, cats, birds, and fish to a friendly bunny who hops down the Sierra View hallways on a leash!
One resident of Sierra View Terraces senior apartments told me she has always had a pet. "When you live on the ranch you must have dogs," she said. Her small dog lives with her in her Sierra View Terraces apartment, and makes friends with passers-by on daily strolls around the neighborhood. "The companionship is special, and I am so thankful for my dog. He lets me know when someone is walking up to my door, and is a great conversation starter when we meet people on our walks."
Researchers have been looking at the possibility of health benefits for pet owners.  Studies on the effects of owning and caring for a pet have revealed that pet ownership can bring remarkable results for your health. 
Studies show that pet owners are less likely to suffer from depression. Pet – especially dogs and cats – fulfill the basic human need for touch. They offer unconditional love, attention, and companionship. Caring for a pet can boost your morale and bring pleasure to your days. Pets require regular feeding and exercise so, no matter how depressed, anxious or stressed you are, your pet needs you to care for it. Being needed, and the job of taking care of an animal, can give your life purpose and provide a sense of self-worth. Veteran groups have seen amazing changes in depression with disabled soldiers. Some animals can even sense a person's mood and purposely try to change it.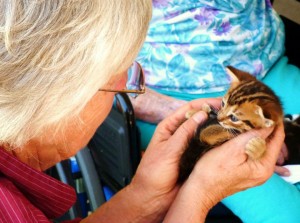 Stroking, holding, cuddling, or otherwise touching a loving animal can have a powerful effect in lowering blood pressure. Touch and movement are two healthy ways to deal with stress. Pets encourage playfulness, laughter, and exercise. Studies show that playing with a pet can elevate levels of serotonin and dopamine, which calm and relax us. Laughing at the antics of a playful pet helps you enjoy life, and adds to your sense of well-being.   
Having a pet can also be heart-healthy. Research shows that heart attack patients who have pets recover more quickly and have longer life spans than non-pet owners. Going for walks with your dog, riding a horse, or chasing a kitten keeps you moving in heart healthy ways. "My dog has to say hello to everyone, and that makes my walks with him take a long time," mentioned a Sierra View resident. "So I end up getting more exercise!" 
Pets also help us take better care of ourselves. When you have a pet, you have to be there to take care of it. In fact, pet owners over age 65 are less likely to need to visit the doctor with ailments. Pets encourage laughter, playfulness, and exercise. All three boost your immune system and increase your energy.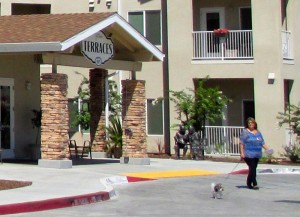 A pet does not have to be a cat or a dog. There are many animals to consider. When you decide to get a pet, look at your home environment, your time commitments, how active you are now, and who else lives in your home. Some pets require more time than others, so think about what the pet requires and if that commitment works for you. 
Pets are not for everyone. It is important to weigh the pros and cons when considering a pet. Food, shots and equipment can represent a significant financial investment. Some animals, especially dogs, may need training and ongoing time for walks and outdoor play. The time commitment cannot be shortchanged, so it is necessary to look at the time you can devote to a pet. Additionally, a particular pet's lifespan and adult size should be considered – for example, some tortoises sold in pet stores can live up to 100 years and grow to weigh hundreds of pounds.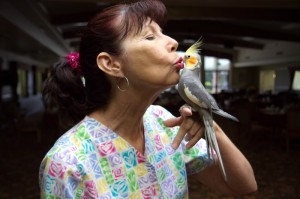 Throughout our retirement campus, Sierra View Homes Retirement Community has several birds and aquariums for residents to enjoy. Sierra, one of our most popular birds, can often be found on a resident's shoulder happily taking a break from sitting in her cage.  Recently, three-week-old kittens brought smiles and cuddles to many people in both our Nursing Care Center and Assisted Living. We also have visiting animals, such as a therapy dog that stops by frequently to cheer up anyone who wants a bit of love. 
Owning a pet has many positive attributes. If you (or your parents) are feeling down, stressed out, lonely, or have health issues, consider purchasing a pet. Researchers have found the pet owner feels remarkably better in just a few short months. As we age and our families and friendships change, caring for a pet can give you the lift you need to stay healthy and happy well into the future.