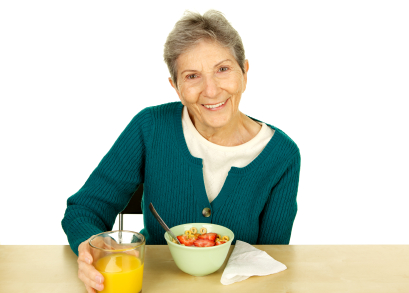 Could moving to a retirement community improve my eating habits and help me eat a healthier diet?   
– D. Mc. of Reedley, California
Yes! Living in a retirement community does encourage better eating habits. Very often, socialization during meals results in an increase in appetite.
Having a healthy diet with proper nutrition has benefits, such as increased mental ability, better mood stability, a strong immune system, more energy and faster recuperation times.
As we age there are factors that cause our eating habits to change, such as the loss of a spouse, a limited budget, metabolism starts to slow down around age 40. Activity levels change due to medical or physical problems. Our sense of taste and smell diminish and various factors can cause appetite changes, such as medication, depression, or an acute or chronic medical condition.
In the aging process we need to continue to exercise.  Statistics show weight more than age determines how much energy we have.  Eating food with fiber keeps the digestive system working well. Taking calcium walking and getting 15 minutes of sunlight daily, helps keep bones strong. Drinking plenty of water promotes regularity, helps our joints, keeps us feeling energetic and much more.  Avoiding foods with high sugar content is important; sugar can suppress the immune system, weaken eye sight, and contribute to obesity, diabetes and other chronic health issues.
Retirement living facilities offer help with maintaining good eating habits. Some independent living facilities have meal plans that can be purchased by the people who live there. There are facilities that offer one meal a day; others offer 2 or more. Some have the meal plan built right into the rental price. There are also assisted living and skilled facilities that serve 3 meals a day.
It should be noted that retirement communities create menu cycles based on the direction of a registered dietitian. For example, SVH has John Varin, RD who verifies diets for proper nutrient content and gives direction to the kitchen supervisor in coordinating food preparation and modified diets. . Retirement communities offer nourishing meals and the socialization encourages better nutrition by continuing to wet the resident's appetite.
If living in a retirement facility is not an option then try having a potluck frequently with friends. Go to the community center either in Dinuba or Reedley for a noon meal M-F.
Both programs are serving meals very reasonably priced and offer other activities with possibilities to meet new friends and have things to do.
The life span for the average American is increasing. A healthy diet and regular exercise can help us live those extra years with energy, and enjoyment.
This article was co-written with John Varin, R.D. He is the consultant dietician for Sierra Kings Hospital and a number of long term care facilities in the Reedley area.