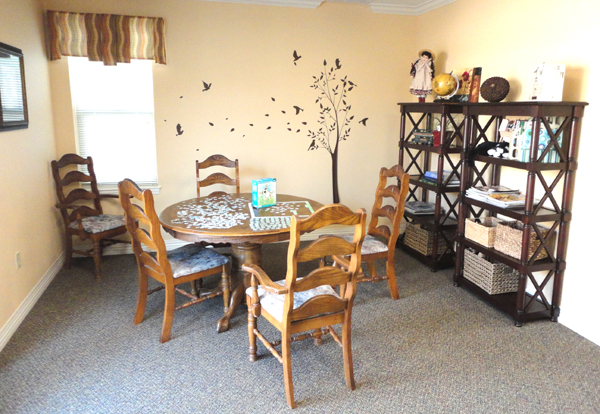 Marden's Place at Sierra View Homes was created to give residents with Alzheimer's and related dementia illness a safe nurturing home where they feel accepted, and their physical, social and emotional needs are met. For those with Alzheimer's, each day is filled with unfamiliar routines and people. Marden's Place allows residents to adjust to their safe surroundings assisted by consistent, trained and caring staff.
Named for Dr. Marden Habegger, Marden's Place was his vision for special care and comfort for residents. Dr. Habegger, a beloved physician who practiced medicine in Reedley for over 40 years, was a founding member of Sierra View Homes and served on its planning committee while living on campus.
Marden's Place provides assisted living services to residents in the early to middle stages of Alzheimer's disease or dementia. Each room and hallway has been developed with the help of local gerontologist, Caitlin Gipson, M.S., and her comprehensive research on the best practices for a memory care facility.
The creatively planned outdoor courtyard offers pathways for walking, areas for gardening and other outdoor activities. Residents may move securely and easily in and out of the facility.
A structured, yet flexible, calendar meets the spiritual, social and recreational interests of each resident. Our philosophy is to give residents the freedom to be who they are at any stage of memory loss. We offer families the assurance of knowing we are meeting their loved one's current and future needs.
Family members are encouraged to help provide a familiar environment for their loved one by bringing furnishings from home and decorating the resident's room with personal items.
Marden's Place includes:
Three delicious meals with entree alternatives
Utilities
Laundry service
Access to indoor and outdoor activities
Towels, washcloths and linens for a single or full bed
Medication supervision
24-hour personal assistance and support
Snacks
Cable television package
Planned activities
Personal bathroom
Housekeeping service